The final game of the NFL season goes down Sunday, February 7th at Levi Stadium in Santa Clara, Ca. between the Carolina Panthers and…
This sounds like a movie script. $40,000 worth of tickets to Super Bowl 50 were swiped from a downtown San Francisco hotel. 
Ego is a huge part of an athlete's legacy. Even when being compared to a great, at some point everybody wants to be known…
It's only right that Beyoncé drops a new single the day before she's performing at halftime of Super Bowl 50 with ColdPlay.
Former porn star Lisa Ann considers herself a muse for professional athletes – especially young NBA stars. In a recent interview, the author and…
Shaquille O'Neal is an NBA legend. Wednesday night, Shaq got the news that the Lakers have commissioned a statue of the big diesel for…
Saying Golden State Warriors star Stephen Curry is flame emojis is an understatement. Steph dropped 51 points on the Washington Wizards in under 36 minutes…
Clippers star  broke his hand two weeks ago after punching a member of the Clippers' equipment staff. Blake allegedly became upset at his friend, Matias Testi, for…
The Golden State Warriors continue to blow teams out of the water this season. When you're dishing out beat downs on the daily, it…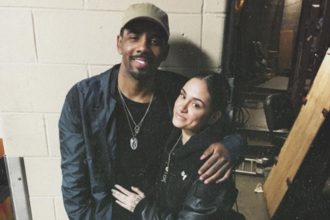 Back in December of 2015, we dropped the news that Cleveland Cavaliers point guard Kyrie Irving and singer Kehlani had started dating. The two…
Blac Rob – that's the combo name for the hottest couple on the Internet, Rob Kardashian and Blac Chyna – had a lot going…
Gilbert Arenas' Instagram feed is a mix of both shock and funny. But this time,  Gil sharing the details of a night out at…
Anyone that loves sports, especially fantasy sports, knows all about FanDuel and DraftKings. You can't even turn on the TV without being bombarded by…
We are less than a week from Super Bowl 50 in San Francisco – really Santa Clara but how may of you really known…
The next project from LeBron James' Warner Bros partnership with his Spring Hill Productions has been announced. The scripted series will be about two…
After winning three Grand Slams in 2015, It looked like Serena Williams would start 2016 with the same intensity. But Saturday morning that idea…
Once the blogs and social media start to put your secret relationship out there, it's time to go public with it. Earlier this week…
Tuesday night in New York, Serena Williams was honored as Sports Illustrated's Sportsperson of the Year. After a crazy successful year that included a…
On Wednesday Ken Griffey Jr. and Mike Piazza were elected to  baseball's Hall of Fame. Griffey received the highest voting percentage ever, 99.3% with 437…
All three major US sports leagues implemented changes to their domestic violence policies following three high profile incidents in the NFL in 2014. LA…
Game one of the World Series starts tonight – Tuesday. The match up features two teams who haven't won the fall classic victory since…